Tremor Brothers Vs Boondock Saints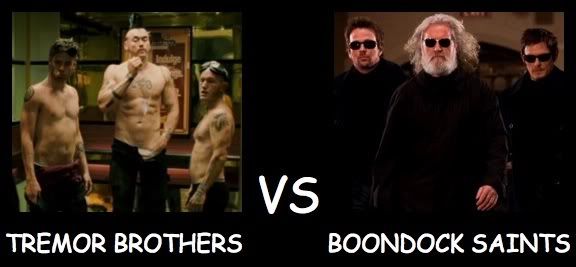 The Combatants:
The Tremor Brothers (Darwin, Jeeves, and Lester) are mean as shit, dangerous as hell, and will go megaton at the drop of a hat. They are experts of Scorched Earth tactics and have received black ops training. On the job, the Tremor Brothers incorporate are large arsenal of weapons that include but are not limited to grease guns, shotguns, handguns, explosives, machetes, axes and chainsaws — and  in a pinch they can, and will, resort to Jeeves' strength and Darwin's knowledge of pressure points.
The Boondock Saints are the McManus brothers, Connor and Murphy, who experience a "calling" from god to punish the wicked. They've since proceeded to hunt down criminals of every caliber, leaving behind a toll for the ferryman and a load of spent bullets. Joined by their father, Il Duce, in their righteous quest, the Saints cleanse Boston of crime in a holy fashion, "Old Testament" style. They dispense their godly justice utilizing semiautomatic handguns, revolvers, and shotguns.
The Set Up:
For this clash, Connor, Murphy, and Il Duce have just taken out the underboss of the Yakavetta crime family.  In response to the growing threat from the three vigilantes, Papa Joe, the Russian boss, contracts the Tremor brothers to deal with them. The Saints are ambushed by Darwin, Jeeves, and Lester as they are breaking into one of the mob's clubs. The Tremor brothers are armed to the teeth, while the McManus brothers, and Il Duce have come  prepared for a fight. So, who takes this, the devil's own, or the hand of god?
Resources: