The Punisher Vs The Joker (Ledger)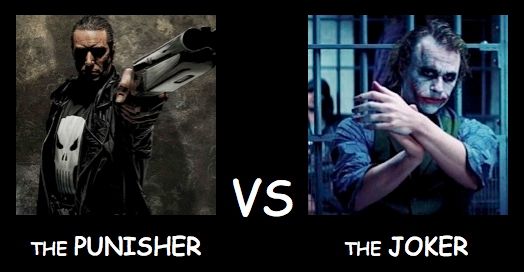 The Combatants:
The Punisher is a vigilante who employs murder, kidnapping, extortion, coercion, threats of violence, and torture in his war on crime. Driven by the deaths of his wife and two kids, who were killed by the mob when they witnessed a gangland execution in New York City's Central Park, the Punisher wages a one-man war on the mob and all criminals in general by using all manner of conventional war weaponry. His family's killers were the first to be slain.
Throughout The Dark Knight, the Joker states his desire to upset social order through crime, and comes to define himself by his conflict with Batman. He is a psychopathic, mass murdering, schizophrenic clown with zero empathy.  Gotham's crime families reluctantly hire him to kill Batman after he brazenly offers them his services. However, It is gradually revealed that he has his own plan: show Batman how absurd the world is by blowing up just about everything that he can.
The Set Up:
The Joker registers on the Punisher's radar when he shows up in New York City at a gathering of mob bosses. They are discussing how to handle their mutual problem: the Punisher. The Joker offers to permanently remove the thorn in their collective side, for a hefty fee, of course. The mob bosses begrudgingly accept. They soon realize that he has other plans: the Joker broadcasts a message to all of New York City stating that if the Punisher does not turn himself in to the police, then he will kill an innocent person each day. The Punisher scoffs at the idea, until some of his associates are murdered by the Clown Prince of Mayhem. If its a war he wants, then its a war the Punisher will give him. So, who takes this epic showdown?
Resources: