---
---
---
---
---
---
---
---
---
---
---
---
---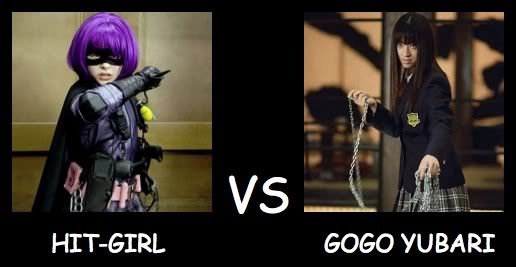 The Combatants:
Hit-Girl is an eleven year old vigilante who will sooner rip out your windpipe than give you time to beg. Trained by her father, Big Daddy, she is proficient in all weaponry,  but her main trade is blades. She displays above average strength, agility, and stamina. Hit-Girl also demonstrates impressive hand-to-hand combat skill, holding her own in a fight with muliple attackers. Her deadly arsenal includes katanas, butterfly knives, handguns, and grenades.
A pit bull in a school uniform, Gogo Yubari is a severely disturbed 17-year-old schoolgirl who delights in killing for fun. She is one of O-Ren's top assassins, and her personal bodyguard. Gogo has a disturbed mind and a vicious penchant for killing. She is brutally savage and exacts her violence with her weapon of choice, a meteor hammer.
The Set Up:
For this clash, O-Ren has begun to establish her criminal organization in New York much to Hit-Girl's disdain. After systematically taking down several of her places of business, Hit-Girl has worked her  way up the Yakuza hierarchy. Leading an assault on O-Ren's headquarters,  Hit-Girl finds herself face-to-face with O-Ren's personal bodyguard, Gogo Yubari. So, which plaid skirted killer lives to see graduation?
Resources:
---
---
---
---