Batman Vs The Punisher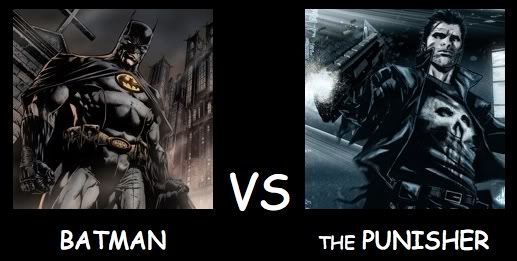 The Combatants:
Batman, also known as the Dark Knight, is Gotham City's silent guardian of the night. Lacking superpowers, he instead relies on his genius-level intellect, detective skills, and peak athletic prowess to take on the city's criminal underworld. Having witnessed the murder of his parents as a child, he swore revenge on crime, an oath tempered with the greater ideal of justice. He dons a high tech bat-themed suit and utility belt to aid in his quest. He is also a master martial artist and expert marksman.
The Punisher is a vigilante who employs murder, kidnapping, extortion, coercion, threats of violence, and torture in his war on crime. Driven by the deaths of his wife and two kids, who were killed by the mob when they witnessed a gangland execution in New York City's Central Park, the Punisher wages a one-man war on the mob and all criminals in general by using all manner of conventional war weaponry. His family's killers were the first to be slain.

Resources: