Brock Samson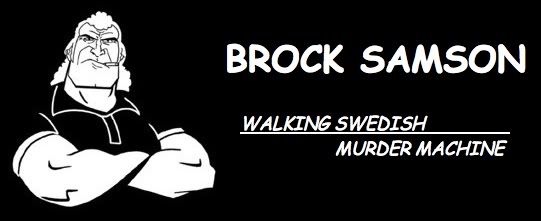 "After the twist, you'll hear a snap. Then the body goes ragdoll on ya." — Brock Samson
Brock Samson is an ex-Marine and former bodyguard; he also served as a field agent for the Office of Secret Intelligence (OSI), where he was granted a License to Kill, a freedom he exercised with great zeal. In fits of rage he exhibits near super-human strength and the ability to endure almost any kind of physical punishment. He generally disdains firearms, preferring to kill instead with his hands or his Bowie knife, but occasionally makes exceptions for certain projectile weapons. Despite his disdain for guns, he is an excellent marksman.
TEN REASONS WHY BROCK SAMSON IS A BADASS ICON:
---
10. SURVIVED THE VACUUM OF SPACE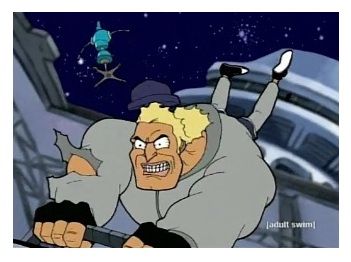 Dr. Venture  accidentally opens the cargo bay doors of the space station, sucking the robot, H.E.L.P.eR., out of the station while Brock hangs on to whatever he can grasp. His eyes bulge and twitch as he is exposed to the vacuum of open space for well over a minute. Lt. Anna Baldavich (a woman with a perfectly sculpted body, but a face so ugly we only see her head from the back) rushes to the bay, where she retrieves Samson and marvels that he is not badly hurt. After a brief recuperation, he has sex with her but asks her not to remove her helmet.
9. USES HIS BOWIE KNIFE AT A FIRING RANGE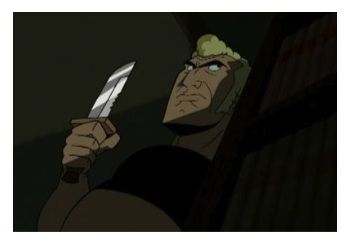 "Guns are fruity." — Brock Samson

After Brock learns that his license to kill  has expired, he is forced to take a recertification exam to get it back. At the exam, Brock refuses to use a handgun on the firing range; instead, he hurls the firearm at one of the cardboard targets, taking it out with ease. He then pulls out his bowie knife and uses it as a devastating projectile attack, finishing off the rest of the cardboard targets with pinpoint prercision. The examiner initially seems disgusted by Brock's incompetence, but soon confesses that Samson has fulfilled his every requirement.
8. HE KILLED HITLER
"I can cross 'stab Hitler to death' off my list of cool crap I thought I'd never get to do." — Brock Samson

A group of Nazis approach Dr. Venture, interested in cloning Adolf Hitler from a dog. The Nazis claim that the dog carries some (or all) of Adolf Hitler's genetic material. They state that they will return after eight months for the clone. Later, the Nazis return to the Venture Compound and hold Dr. Venture hostage; Orpheus magically kills the Nazis but is unable to convince Dean to ritualistically kill Hitler (the dog), to whom he has become attached. Orpheus' spell sends Hitler running off into the woods surrounding the compound. The dog finds and attacks Hank, but is killed by Brock Samson, who appears unexpectedly with a group of S.P.H.I.N.X. agents.
7.  SIXTH SENSE REGARDING HIS CAR
"Someone is in my car!" — Brock Samson
"Alright, that's a legitimate superpower." — Shoreleave
"I've seen him do that from another country away." — Hank

A game of touch football is interrupted when Brock senses someone is in his car. It turns out to be Dr. Venture's seeming attempt at suicide. Apparently, Brock is able to tell whenever someone is in his car, even from an entirely separate continent, which Shore Leave believes is "a legitimate super-power."
6. GIVING SPEEDY THE UNBREAKABLE DEATH GRIP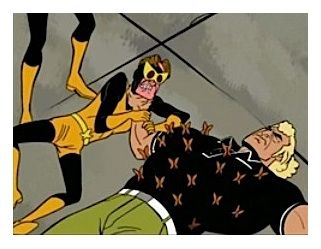 While down in Mexico, Brock charges a group of the Monarch's henchmen. He is shot repeatedly with tranquilizer darts which do nothing to slow him down. Reaching them, he grabs Speedy by the throat and crushes his windpipe until the unlucky henchman turns red and the lenses pop out of his goggles. In an attempt to break his hold on Speedy, a truck is rammed into Brock, knocking him to the ground and leaving him unconscious. However, his death grip on the henchman is so vice like, it's unbreakable. Believing that Brock is dead, they bury him and Speedy together. When Brock awakens later, he finds his fingers still wrapped around Speedy's lifeless neck.
5. KILLS ALL THE MONARCH'S HENCHMEN WITH HIS CAR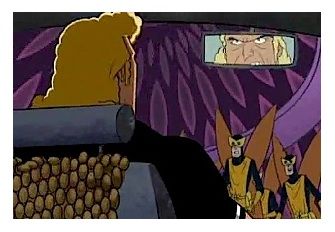 "You get the boys… I'll take care of these guys." — Brock Samson
"Are you sure? There's an awful lot of…" — Dr. Venture
[interrupting, speaking slowly] "They hit me with a truck." — Brock Samson
After being hit by a truck and buried in a shallow grave by the Monarch's henchmen, Brock emerges from the ground with a grudge. Aboard a plane, he  loads the doctor into his Dodge Charger, and before Dr. Venture can object, opens the cargo bay door and backs the car out of the jet in mid-air, briefly deploying a parachute. He releases the parachute and the car plummets toward the Monarch's lair. Brock's Charger crashes through the ceiling. Brock orders Dr. Venture to get out and take care of the boys. He exacts his bloody revenge on the henchmen by running over dozens of them as they try to flee.
4. FALLING THROUGH THE WINDSHIELD OF A SPEEDING CAR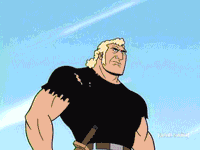 Brock turns his back to a car which is stopped about 100 yards behind him. The driver, the Venture brother's mother, floors it in an attempt to run him over. Brock closes his eyes and puts out his left hand directly in front of him, then puts his right hand straight out to his right side. When the car gets close enough he jumps allowing himself to smash through the windshield and into the driver's seat knocking out the driver. His left hand now resting on the steering wheel, his right hand now holding back Dr. Venture, who is in the passenger seat, he puts his foot on the brake, bringing the speeding car to a halt.
3. LEADS THE MURDERFLIES INTO BATTLE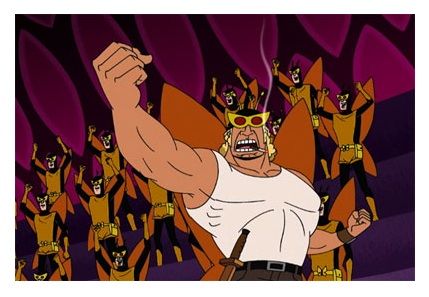 "As of this moment, you are no longer butterflies. Today, you are murderflies!" — Brock Samson
With the Monarch's Cocoon under attack by the Phantom Limb, Brock is given command over the henchmen and wastes no time taking charge of the situation. He gives the "fluttering horde" a rousing pep talk, calling them "murderflies", which really gets them pumped for battle. He then tells them all to fly out to Phantom Limb's ship and they all quiet down, saying the wings are just for show. Suddenly one of the henchman starts flying. This changes everything, as everyone starts flying about the room. Later, the murderflies leap from the cocoon in attack waves and get slaughtered.
2. HIS BATHROOM RESCUE OF HANK AND DEAN
"If you ever sick your goons on the Venture family; my family I will…" — Brock Samson
[interrupting] "Yes, yes, of course. Scary, scary. It won't happen again." — Phantom Limb
Hank and Dean go to a restaurant on a double date. In another booth sits the Monarch, who dares Phantom Limb to take down the Venture family. So, Phantom Limb makes a call, issuing a "blackout" on the Ventures. At the compound, the alarm goes off, sending the entire place into lock down. Brock bursts in on Dr. Venture, naked and blood soaked with a severed head in his hand to "prey on their fear." Once the compound is believed secure, Brock jumps into his charger and goes after the boys. Meanwhile, Hank and Dean are in the restaurant's bathroom, along with the Monarch, Phantom Limb, and Henchmen 21 and 24. Brock, still naked, leaps from the car, crashing through the window. He gets into 21 and 24's stall and they tell him to check the next stall. In that stall he meets The Monarch who tells him he had nothing to do with the current situation, and to check the next stall. In there, Phantom Limb explains the situation at knifepoint, but Brock starts to tell him the next time Phantom Limb tries any of that crap- but before he finishes, Phantom Limb says he gets the picture and that he won't do it again.
1. DEATH BY SAMSON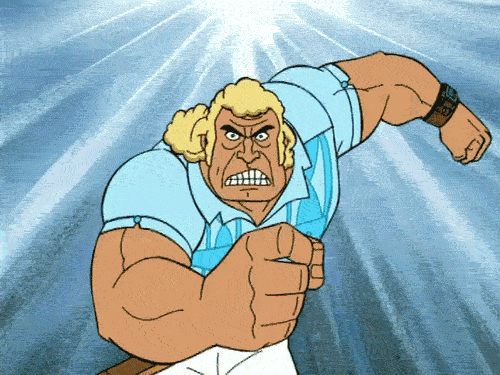 "What happend to Henchman #1?" — The Monarch
"Death by Samson." — Henchman 21
"Death By Samson" is a death caused by (via various & often brutal means) the actions of legendary OSI Agent/Bodyguard Brock Samson (either directly or indirectly). It is usually done intentionally or, in rare cases, unintentionally when he's enthralled in a murderous rage. The Monarch's Fluttering Horde are the most common victims of 'Death By Samson", to the point it lead one of them, Henchman 21, to coin the phase. No known women have suffered the fate at Brock's hands. However, the OSI's top three assassins all met their end via "Death by Samson", meaning that this qualifies Brock as one the greatest assasins/killers in the history of the OSI (if he were still a member of OSI it would make him by far the OSIs Top/Greatest Assasin).